Willys Jeep 1:25 Modelik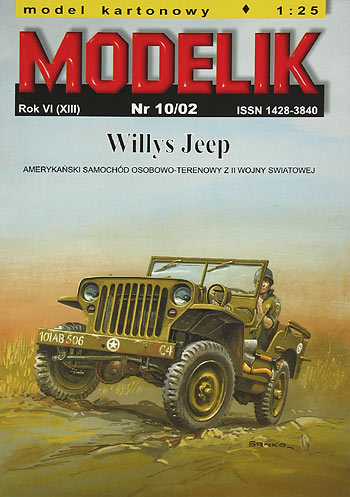 ---
The kit
Publisher
Modelik
Very detailed papermodel of the poular Willys Jeep.The parts are computerdrawn.The print and paper is very good. The model is rated 3 on the GMI index and is of medium difficulty.The instructions seems very good with a lot of 3d drawings.With almost 700 parts it is really something to put your fingers into!!
Designer
Waldemar Rychard
Scale
1:25
Size
140 x 60 x 80 mm
Parts
690
Pages
12
Format
210 x 297
GMI
3-Medium
| | |
| --- | --- |
| Pages of written instructions in Polish | 1/2 |
| Pages with parts | 7 |
| Pages with drawings | 4 |
Pictures of some of the parts and instructions
---
Pictures of a finished model by Josef Fuchs.
---
History and information
From humble origins -- a handful of prototypes built by three different manufacturers -- the Jeep 1/4-ton utility vehicle has evolved over the years into one of the most popular and versatile vehicles ever made. Named the "Universal Jeep" by Willys-Overland shortly after World War II, it's been used in combat and for desert racing, for rock crawling or daily driving . . . in short, if there's a road or trail anywhere in the world, chances are that sometime, somehow, a Jeep has driven over it. [...] The hero of World War II [...] served in every theater of war, in every conceivable role, and with every Allied army. They were also given modifications including longer wheelbases, skis, armor plating, railway wheels, and weapons mounts of various types. This vehicle changed the way [people,] Americans [and foreigners] looked at the automobile and added a new word to our vocabulary: Jeep. General Dwight D. Eisenhower himself listed the jeep as one of the most important tools that won the war..
Specifications
| | |
| --- | --- |
| Weight | 1020kg |
| Length | 3.33m |
| Width | 157.5cm |
| Height | 72 inch (183 cm) with top up reducible to 52 inch (132 cm) |
| Crew | 4 |
| Engine | 4-cyl. side valves 134 cu.in (2,199 cc) 60 hp (46 kW) at 4000 rpm 105 ft·lbf (142 Nm) at 2000 rpm |
| Transmission | 3-speed + reverse 2-speed transfer case; low range engages front wheel drive |
| Suspension | Wheeled |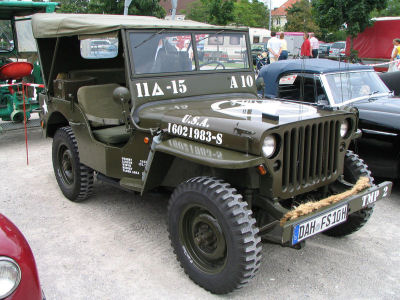 Info and pictures from Wikipedia