T28 1:25 DrafModel
---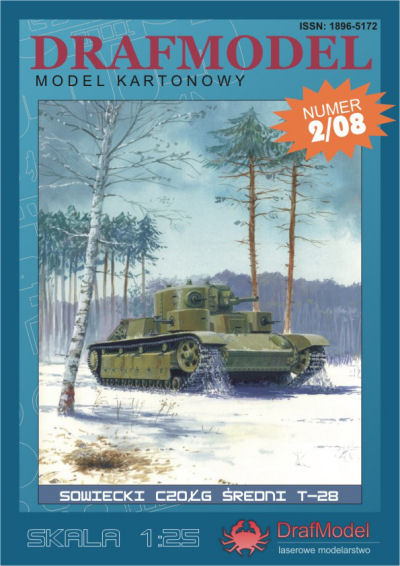 ---
The kit
Publisher
DrafModel

The latest release from DrafModel is the T28. My experience with models from Draf is that they are among the best there is.Everything fits 100%.This is a model for the more experienced builder since it contains a lot of repetive work.The count of wheels are 72.There are 5 different "models" included in the kit. The print is exeptionally good!! It's the first time I have seen print on high gloss paper with metal effect in a kit.So DrafModel really stands out as something special with this one!! So get it while you can!!

There are of course extras for this model. Both laserframes and lasertracks

Designer
Rafal Drzymulski
Scale
1:25
Size
N/A
Parts
A lot
Pages
35
Format
A4
GMI
5. Medium-Hard
| | |
| --- | --- |
| Pages of written instructions in Polish | 1 |
| Pages with parts | 30 |
| Pages with drawings | 5 |
Pictures of some of the parts and instructions
No pictures of a finished model available yet.
---
History and information
The Soviet T-28 was among the world's first medium tanks. The prototype was completed in 1931 and production began in late 1932. It was an infantry-support tank intended to break through fortified defences. The T-28 was designed to complement the heavier T-35, with which it shared many components.
Specifications
| | |
| --- | --- |
| Weight | 27800kg |
| Length | 7.44m |
| Width | 2.87 meters |
| Height | 2.82 meters |
| Crew | 6 |
| Armor | 30mm |
| Primary armament | 76.2mm gun (70 rds.) |
| Secondary armament | 4 or 5×7.62mm DT machine guns (8,000 rds.) |
| Engine | Mikulin M-17 12-cylinder 500 hp (373 kW) |
| Power/weight | 18 hp/tonne |
| Suspension | twin bogies with plunger springs |
| Operational range | 220km |
| Speed | 37km/h |
Photos and info from Wikipedia