North American P-51D Mustang (Big Beautiful Doll)1:33 Halinski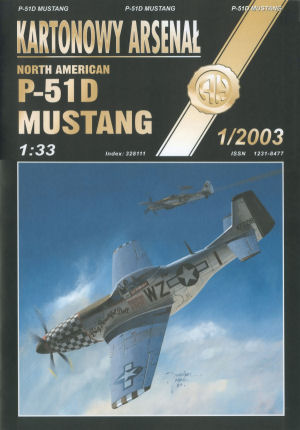 ---
The kit
Publisher
Halinski
The Halinski kits are known as top of the notch model kits,and this kit is no exeption. It has a brilliant silver metallic print.The fit is very good as far as I know.It puts a lot of presicion work on the builder, and giving a great challenge.

The model can be bought from most of the cardmodel stores

English instructions are available

Extras: Canopy and wheels

Designer
Marcin Grygiel
Scale
1:33
Size
298 x 342 mm
Parts
N/A
Pages
12
Format
240 x 340
GMI
3-Medium Difficulty
| | |
| --- | --- |
| Pages of written instructions in Polish | 1 |
| Pages with parts | 6 |
| Pages with drawings | 5 |
Pictures of the parts and instructions
Photos of a finished model made by Jan Müller.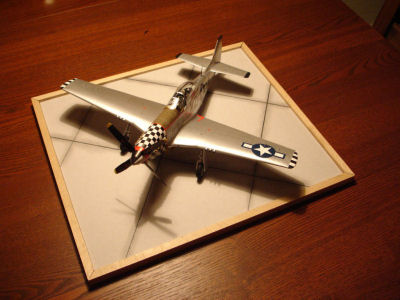 ---
History and information
The North American Aviation P-51 Mustang was an American long-range single-seat fighter aircraft that entered service with Allied air forces in the middle years of World War II. The P-51 became one of the conflict's most successful and recognizable aircraft. The P-51 flew most of its wartime missions as a bomber escort in raids over Germany, helping ensure Allied air superiority from early 1944. It also saw limited service against the Japanese in the Pacific War. The Mustang began the Korean War as the United Nations' main fighter, but was relegated to a ground attack role when superseded by jet fighters early in the conflict. Nevertheless, it remained in service with some air forces until the early-1980s. As well as being economical to produce, the Mustang was a fast, well-made and highly durable aircraft. The definitive version of the single-seat fighter was powered by the Packard V-1650-3, a two-stage two-speed supercharged 12-cylinder Packard-built version of the legendary Rolls-Royce Merlin engine, and armed with six of the aircraft version of the .50 caliber (12.7 mm) Browning machine guns. After World War II and the Korean conflict, many Mustangs were converted for civilian use, especially air racing. The Mustang's reputation was such that, in the mid-1960s, Ford Motor Company's Designer John Najjar proposed the name for a new youth-oriented coupé after the fighter.[2]
Fighter-bomber and intruder. Same gun armament as F.II night fighter (four 20mm cannon plus four machine-guns) but with additional load of two 250lb bombs in rear bay. plus two 250lb (later 500 lb) bombs on wing racks - alternatively 50 or 100-gallon drop-tanks, mines, depth-charges or (under wings) eight x 60lb (5-inch) rockets. Some fitted with AI radar. Total production of this Mark was 2,584 - more than of any other version of the Mosquito.
Specifications
| | |
| --- | --- |
| Empty Weight | 3465kg |
| Loaded Weight | 4175kg |
| Max takeoff Weight | 5490kg |
| Length | 9.83m |
| Wingspan | 11.28 meters |
| Height | 4.17 meters |
| Crew | 1 |
| Armor | N/A |
| Primary armament | 6 × 0.50 in (12.7 mm) machine guns; 400 rounds per gun for the two inboard guns; 270 per outboard gun |
| Secondary armament | 2 hardpoints for up to 2,000 lb (907 kg)and 10 × 5 in (127 mm) rockets |
| Engines | Packard Merlin V-1650-9 liquid-cooled supercharged V-12, 1,380 hp (1,030 kW) military, 2,218 hp (1,655 kW) |
| Power/mass | 0.23 hp/lb (385 W/kg) |
| Suspension | N/A |
| Operational range | 1,160 mi (1,865 km) with external tanks |
| Speed | 487 mph (784 km/h) at 25,000 ft (7,620 m) |
Photos by Curtis Fowles at MustangsMustangs.com