Pz.Kpwg II "LUCHS" 1:25 WAK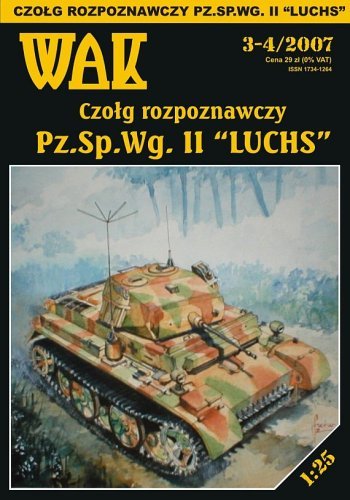 ---
The kit
Publisher
WAK
This is really a great kit from Wak! The kit contains over 2000 parts.The instructions are only in Polish,but there are a lot of 3D drawings to help you along the way. The kit is of course computerdrawn and the print is very good.I do miss some weathering though.Available are also laserparts,lasertracks and metal barrel.

You can buy the model at http://www.wak.pl/

Designer
M. Kurzynski
Scale
1:25
Size
N/A
Parts
2723
Pages
20
Format
210 x 297
GMI
5-Difficult
| | |
| --- | --- |
| Pages of written instructions in Polish | 1 |
| Pages with parts | 14 |
| Pages with drawings | 4 |
Pictures of some of the parts and instructions
Laserparts
Photos of a finished model taken from Wak's site.
---
History and information
A light reconnaissance tank, the Ausf. L was the only Panzer II design with the overlapping road wheels to enter series production, with 100 being build from September 1943 to January 1944 in addition to conversion of the four Ausf. M tanks. Originally given the experimental designation VK1303, it was adopted under the alternate name Panzerspähwagen II and given the popular name Luchs (Lynx). The Lynx was larger than the Ausf. G in most dimensions (length 4.63 m; height 2.21 m; width 2.48 m). It was equipped with a six speed transmission (plus reverse), and could reach a speed of 60 km/h with a range of 290 km. FuG12 and FuG Spr a radio were installed, while 330 rounds of 20 mm and 2,250 rounds of 7.92 mm ammunition were carried. Total vehicle weight was 13 tons. .
Specifications
| | |
| --- | --- |
| Weight | 13000kg |
| Length | 4.63m |
| Width | 2.48 meters |
| Height | 2.21 meters |
| Crew | 4 |
| Armor | 13-15mm |
| Primary armament | 20 mm L/55 KwK 38 |
| Secondary armament | 7,92 mm MG 34 |
| Engine | Maybach HL66P, 180 pK, 6-cylinder |
| Power/weight | N/A |
| Suspension | N/A |
| Operational range | 300 km |
| Speed | 60 km/h |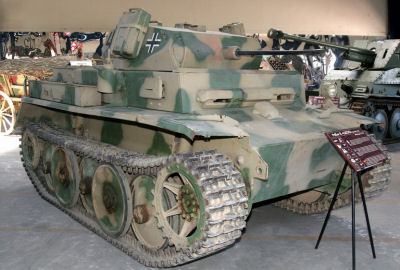 Photos by Igor Kurtukov