Krupp Protze L2H 143 Kfz.70 1:25 Modelik
---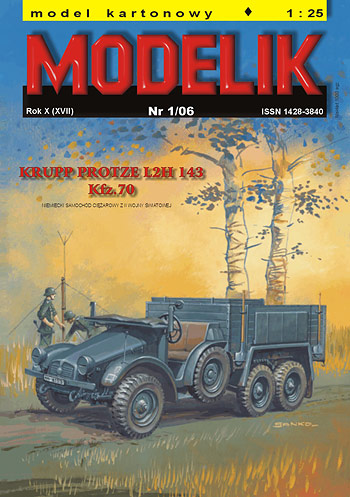 ---
The kit
| | |
| --- | --- |
| Publisher: | Modelik |
| Designer | Waldemar Rychard |
| Scale | 1:25 |
| Parts | 795 |
| Pages | 24 |
| Format | 300 x 215 mm |
| GMI | 4 |
The kit starts with 3 pages of the usual written instructions and information in polish only....Then follows 14 pages with parts. There are 7 pages with 3d drawings.The kit seems very well designed.The colors are crisp and clear.The kit is computerdrawn,so all parts are sharp and well marked.
Some pics from the kit
---
Here are some shots of a finished model made by Serge from Russia!
---
Details and info
The Krupp "Protze" was a six-wheeled German truck and artillery tractor used by German forces in World War II. It was powered by a 60 hp Krupp M 304 4-cylinder engine. Its main purpose was to tow artillery, especially the PaK 36. It was also used to transport infantry and other utility uses. This vehicle was extensively used on the Eastern Front, North African campaign and in France and Sicily. The Protze, commonly called the 'Boxer' was of simple design, and was mass-manufactured between 1933 and 1942. Total production was about 7000 units.
Specifications
Weight:
2450kg
Crew:
2 men +
Engine:
Krupp 3.3l Boxer air-cooled / 4-cylinder / 60hp
Speed:
Road: 70km/h
Cross-Country: --km/h
Range:
Road: 450km
Cross-Country: 360km
Fuel Capacity:
110 litres
Lenght:
5.10m
Width:
1.93m
Height:
1.96m
---
I went to a nearby war historic museum to get some shots of the Krupp.Theese pics can be used for references!
ŠJohnny Svensson 2007